Operable wall servicing and repairs from Panel Logic


FAQs

It's

Saturday, August 13th, 2022

, when was your wall or door last serviced?

Book your FREE NO OBLIGATION inspection today!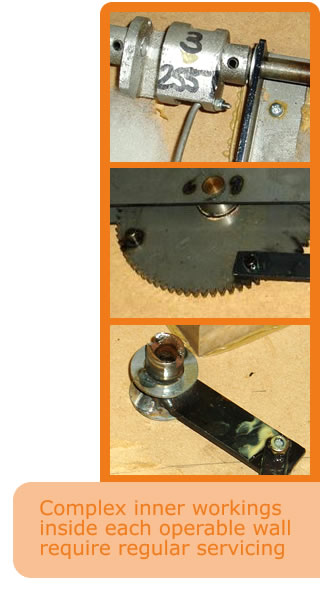 Q. When is it time to have a wall serviced?
A. At least once a year or possibly more frequently depending on the usage and type of facility it's used in. Definitely when it starts giving you difficulty in moving or when a staff member has concerns. It's Saturday, August 13th, 2022, when was your wall or door last serviced? Book your FREE NO OBLIGATION inspection today!
Q. How can I tell if the wall requires serving /repairs or maintenance?
A. Number of combinations:
Becoming more & more difficult to operate
Panels have widening gaps and do not butt together vertically causing acoustic sound leaks and visual concerns
Fixed seals or retracting seals are not activating or are missing causing sounds to travel from one room to another
One end off the panel is dragging across the floor plan or the whole panel is resting on the floor plan making movability extremely difficult and dangerous
Door catchers and pass doors not closing freely
Hinges loose or screws falling away mounting pressure on above carriers
Foot bolts/Stile bolts and end bolts missing or not locking into floor plates or above tracks.
Bottom floor tracks and drop bolt holes obscured by dust/grime and foreign particles from the harsh weather elements and every day usage
Broken or missing items
Staff complaints
Very odd noises when operating wall, difficult to put wall into place and put away into stack bays or centre stacks.
Period off time since it last had a service or if at all
If you can relate to any of these questions, then it is possibly time for your wall to have a service. Just like a motor vehicle walls have moving and mechanical components, that over time if not attended to will break down and cause you down time or possible immobility of your wall when you least require it. The consistent service or maintenance of your walls is to extend the life and decrease the expense of long term repairs also increase the operational efficiency and reliability. Book your FREE NO OBLIGATION inspection today!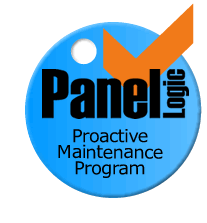 Q. What is the next step to rectifying any such problems?
A. Book your FREE NO OBLIGATION assessment. We will provide you with a cost effective written quotation, to get your wall operating reliably again - after all our reputation is moving walls!
Q. I need to contact Panel Logic urgently!
A. Click here for our contact details or complete or Contact Form and we will contact you within 24 hours.