Operable wall servicing and repairs from


Panel Logic

All moving equipment such as sliding Bi-Fold doors, Accordion Doors, Operable and Glass Walls, require regular servicing to keep them in optimum operating condition. Panel Logic offers complete inspection, servicing and maintenance of all types of operable and moveable wall systems.

Panel Logic team members can repair any moveable wall or door of any design/manufacture. Our Technicians have a large inventory of spare parts to suit all makes and models.

We offer Free No obligation inspection service of your moveable wall or door system, which includes a written evaluation report. Our team will visit your site and asses any damage within 24 hrs of a call.  

It's

Saturday, August 13th, 2022

, when was your wall or door last serviced?

Book your FREE NO OBLIGATION inspection today!

Panel Logic offers prompt one-off service calls as well as preventative maintenance programs to regularly maintain your moveable wall systems at times and periods to suit your organisation.

Contact us today!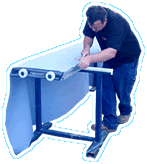 Staff Training
We also provide training for your staff and users in the correct operation of moveable wall systems. Correct operation of such wall and door systems is essential to minimise non-essential repairs and maintenance.
Our Clients
We have a wide range of clients such as Local councils, Private/Public schools, Tafe colleges, Religious organizations and Government sectors currently being serviced and maintained.
Free Inspection
Click here for your FREE NO OBLIGATION inspection and assessment with written report.